Date: 20/07/2019
Time: 10:00:00
Address: Service Training Centre, West Way, Chorley
Come along to our 999 Family Fun day on Saturday 20 July, 10.30am – 4.30pm, where Lancashire Fire and Rescue Service along with partners from North West Ambulance Service, Lancashire Constabulary, Bolton Mountain Rescue, Blood Bikes, Air Ambulance, Fire Investigation Dogs, USAR and loads more look forward to showing you our tools of the trade, have a fire engine experience, see old fashioned fire engines and ambulances, enjoy live music, food and lots of fun!
Entry is FREE however we ask you to obtain a ticket in advance using the link here. Thank you.
Runshaw Adult College has kindly allowed us to use their car park as a Park and Ride and we will run a free bus to and from Chorley Fire Station. More information to follow.
Follow the event on our facebook page for more information and to be kept updated.
Find the map for the day here.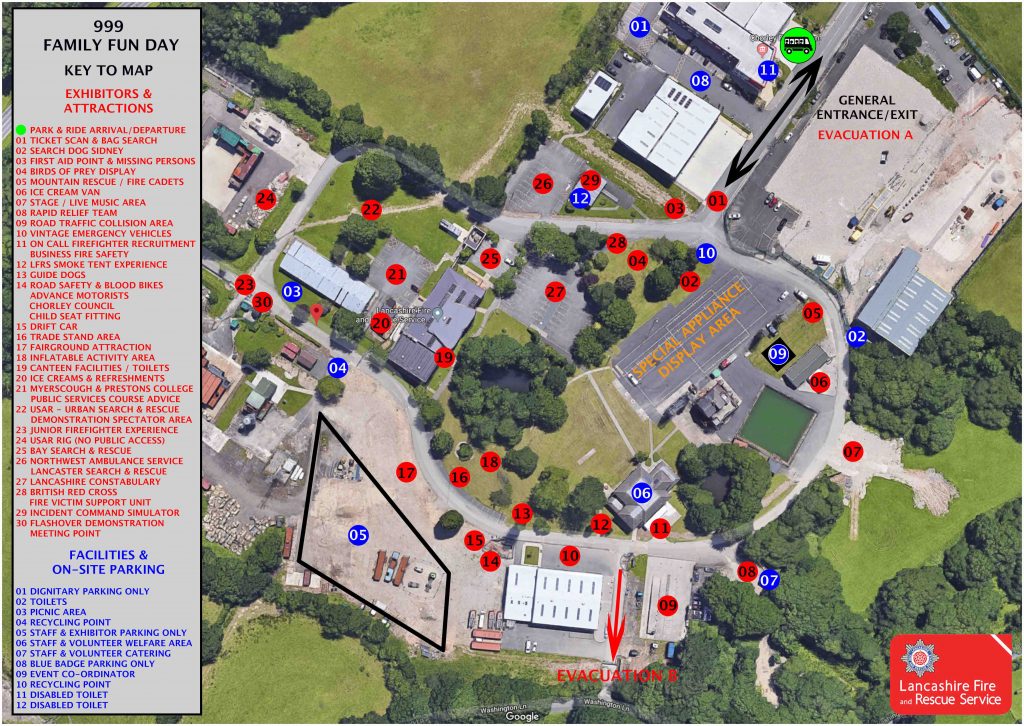 Want to know more? Here are some FAQs:
Do I need to bring my ticket with me?
Yes. You should have received a confirmation email when you booked your tickets. Please bring this along with you for each member of your party (children included) as this will be scanned upon entry.
Where can I park?
This event is at Lancashire Fire and Rescue Service Training Centre (West Way, Euxton, Chorley, PR7 6DH) and entry is through the main front gate, therefore security will be strict.
Runshaw Adult College (PR7 6AQ) have kindly permitted the use of their car park on Saturday 20 July. Lancashire Fire and Rescue Service have organised for buses to shuttle people to and from the event throughout the day.
There is an additional free parking area at the Lancashire College site off Southport Road (PR7 1QR). This is a walk of 0.8 miles to Lancashire Fire and Rescue Service Training Centre along Southport Road and Westway.
Vehicles will be parked and left at the vehicles owners own risk.
Walking or cycling to the site is permitted however no roads will be closed for the event nor traffic management in place. Please be aware that Chorley Fire Station is also based at Lancashire Fire and Rescue Service Training Centre therefore fire engines may be coming and going from the site at high speed, on blue lights and sounding the alarm. If this happens, this is not part of the event and the vehicle is responding to an emergency.
I have a blue badge, where can I park?
Please email lfrscorpcomms@lancsfirerescue.org.uk in advance and the events team will add your name to a list to ensure you get onsite parking. The blue badge holder MUST relate to a guest with entry ticket who is in the vehicle.
Can I bring my dog?
No, unless the dog is a registered guide dog or assistance dog. Please be aware that Police and Fire dogs as well as police horses will be on-site all day, and there are no provisions for any pets.
Can I bring food?
Yes however different type of food/drinks will also be available to buy on site, however food is permitted. Alcohol is not permitted. There will be hot/cold food stalls as well as ice-cream vans and cake stalls.
Will you search bags?
Bags may be searched upon arrival therefore we advise that large bags and rucksacks are not brought onsite.
Please note this is predominantly an outdoor event. Please dress appropriately for the weather.
NO alcohol, smoking and e-cigarettes are permitted on site.
All tickets for this event have now been allocated and currently no more tickets are due to be released as we are at capacity. Unfortunately we may have to turn you away if you arrive without a ticket.