11-17 March is British Science Week and to celebrate our role as firefighters we thought you'd like to know how much science impacts on fire!
First of all let's take a look at the science behind fire.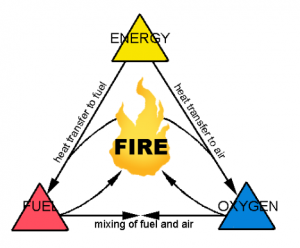 The fire triangle shows the three things needed for a fire to start and keep going. If one of the sides of the fire triangle is removed, a fire will not start, and a fire that is already burning will go out. Fire-fighting relies on this principle however there are lots of things that impact a fire or the ferocity of a fire and that depends on the type of fuel, wind direction and weight of attack. You may think that water is used on all fires for example but this could actually fuel the fire even more and in some instances firefighters use foam, carbon dioxide or chemicals.
In a modern world where science and technology has evolved considerably, Fire and Rescue Services have utilised these advancements to make firefighting activities much safer and more effective for our communities.
The built environment which firefighters operate in on a daily basis, is now far more complex and arguably more complicated than ever before. Fire engineered solutions and state of the art fire protection systems fitted in buildings is common place. A modern-day firefighter can't rely on just their physical abilities and bravery to deal with the incidents they face, they need to be firefighters that understand how these scientific and technological advances impact and support the firefighting operations they adopt.
Modern day firefighting equipment available to our firefighters is vast. We have seen significant advances in personal protection equipment (PPE) and the equipment carried on fire engines. The Air Support Unit/drone in LFRS, is an example of how science and technology has been developed to assist our incident commanders in gathering risk critical information and situational awareness much quicker, which ultimately allows them to them make dynamic, critical decisions that lead to incidents being resolved much more effectively and safer than we've ever been able to do before. LFRS have also been the first Fire and Rescue Service to introduce the new concept 'Stinger' fire engine. The Stinger fire engine is capable of piercing fire compartments with a mechanical boom on top of the fire engine which houses a mechanical spike piercing system. Through a remote control device the firefighters can control the fire engines functions from a safe distance, without needing to risk firefighters safety. This is all cutting edge innovative technology!
The National Fire Chiefs Council (NFCC) and Institute of Fire Engineers (IFE) are just two of the many stakeholders within the fire sector, that utilise scientists and sector professionals, to continually study fire behaviour at research facilities that enhance our learning and operational techniques for dealing with fires and our other specialist rescue roles.
Who knows what firefighting developments will be available in the future? BBC Click did an episode on the future of firefighting which is an interesting watch. Find out more here.
Last year we took part in the Lancashire Science Festival and we hope to make an appearance again this year with our smoke simulator to show children just how quickly smoke can rise in a fire and the importance of 'staying low.' STEM subjects aren't just something to dismiss in school, you could find them really interesting and they could set you on a career to become a firefighter!