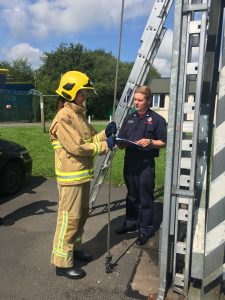 Reporter, Laura Pratt, from Capital Lancashire was put through her paces at our Service Training Centre in Exuton, Chorley as she had a go at firefighter recruitment. Lancashire Fire and Rescue Service were recruiting for on-call firefighters during July and August and invited Laura along to meet two on-call firefighters and have a go herself at the recruitment process.
Laura met Eve, on on-call firefighter from Ormsirk who manages her on-call commitments whilst studying for a degree and masters at Edge Hill University. She also went to meet Dominic and his employer Will at J&D and Rimmer, a potato merchants in Tarleton to hear how Dominic juggles his two roles and how being an on-call firefighter has also benefited his employer. Eve had only recently passed out from her recruits course whereas Dominic had been an on-call firefighter for over a year but both had to pass the same recruitment process and fitness tests.
Not content with hearing first-hand how firefighters join the Service Laura took her investigative journalist skills to a new level by trying out the recruitment process for herself! We allowed Laura to skip the online application form and assessment and jump straight to the physical assessment day, a practical assessment which firefighters (both on-call and wholetime) have to pass prior to interview stage of the recruitment process.
Laura had the choice of doing either the Fire Service bleep test or the Chester Treadmill test and she opted for the treadmill test, a challenging 12 minute treadmill walk which increases in gradient by 3% every two minutes.  By nine minutes Laura's calf's were burning but she managed to complete the test without holding on and after a quick stretch she was ready for the next stage!
The physical assessment day consists of a range of fitness exercises which test for strength, instruction, acrophobia and confined space. Laura started the test with a ladder lift, a casualty drag (pulling a 55kg 'body' for 3om), ladder pull, hose run, ladder climb, combined space crawl and equipment carry. The full test Laura completed and potential recruits would be asked to complete can be found here.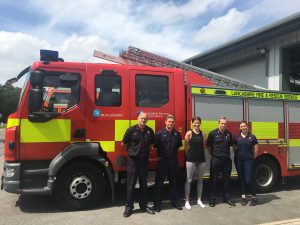 Whilst Laura undertook this test with no prior knowledge of the assessment, anyone interested in becoming an on-call firefighter would have more than likely visited their local station prior to starting the recruitment process. Eve heard about the on-call role from a banner outside her local station and went to visit the crew on their weekly drill night, was told about everything involved in the recruitment process and if they were successful and also the opportunity to train with the crews for the physical tests and work towards building their strength and fitness.
Following the day Laura said: "I really enjoyed having a go at the tests that firefighters have to go through to join the recruits course. Whilst I found the tests physically hard I could see that by visiting the stations before-hand and getting the knowledge from the on-call support officers would be helpful if I were to apply for real as I'd know what I would need to do to build on my strength and general fitness."
Laura continued by saying: "on my experience day at the Service Training Centre I was fully supported by the on-call support officers and the Service fitness advisor and I can see that their knowledge and their guidance would be really reassuring and helpful when making the decision to become an on-call firefighter. I knew firefighters had to be physically fit but actually having a go at the test myself made me respect how much fitness training is important in their role. Meeting Eve and Dominic was inspiring to see how they fit their on-call commitments around their other work and social life and was also really uplifting to see how enthusiastic they were about serving their community. I can see how being an on-call firefighter is a rewarding role and doable for anyone who lives or works within five minutes of a retained station."