The National Fire Cadets is an educational youth organisation run by Fire and Rescue Services in partnership with the National Fire Chief's Council (NFCC). The aim of the scheme is to create safer, stronger communities through developing an individuals knowledge and awareness of their community to enhance citizenship skills.
Lancashire Fire cadets is aimed at 13 to 18-year-olds. Our programme is accredited with SFJ Awards and is an exciting and unique programme. We aim to provide young people with an insight into a uniformed service with basic firefighting skills being learnt alongside personal and social skills. We strive to deliver a quality programme that combines key operational skills with invaluable knowledge of the Fire and Rescue Service.
Joining our Cadet force allows individuals to build their self-confidence and resilience whilst developing their leadership and teamwork ability. It's also lots of fun and a great way to meet new friends whilst gaining a respected qualification that is recognised by the Fire and Rescue Service.
What does being a fire cadet mean?
As a fire cadet, you will be treated as a young firefighter. You will be provided with a full uniform and name badge and will represent Lancashire Fire and Rescue Service at various events, including community safety events, open days etc.
We expect our cadets to:
Attend the weekly two hour session at your local fire station
Have a real passion and genuine interest in learning about the Fire and Rescue Service
Have a desire to work as part of a team to build a safer and stronger Lancashire and wider community
Show a certain amount of discipline and commitment, just like a firefighter
Possess a 'can do' attitude and always try your very best
Respect the views of others and foster inclusive values
What does the qualification involve?
Although there are many fun and hands-on operational elements involved in being a fire cadet, every young person in the unit will also complete a Level 2 qualification in 'Fire and Rescue Services in the Community'. During your first year as a cadet, you will complete an award and in the second year, you build on your skills in order to gain a full certificate. The qualification includes learning about:
Functions and responsibilities of the Fire and Rescue Service
Problem solving and communication skills
Community projects
The science of fire
Water safety and rescue techniques
Exercise ground scenarios
Community safety
Citizenship
Once the first and second years have been completed the option for cadets to stay on for a third year is available. This allows further development of their leadership skills and they can take on the roles of Cadet Crew Manager and Cadet Watch Manager whilst supporting their unit in positions of greater responsibility.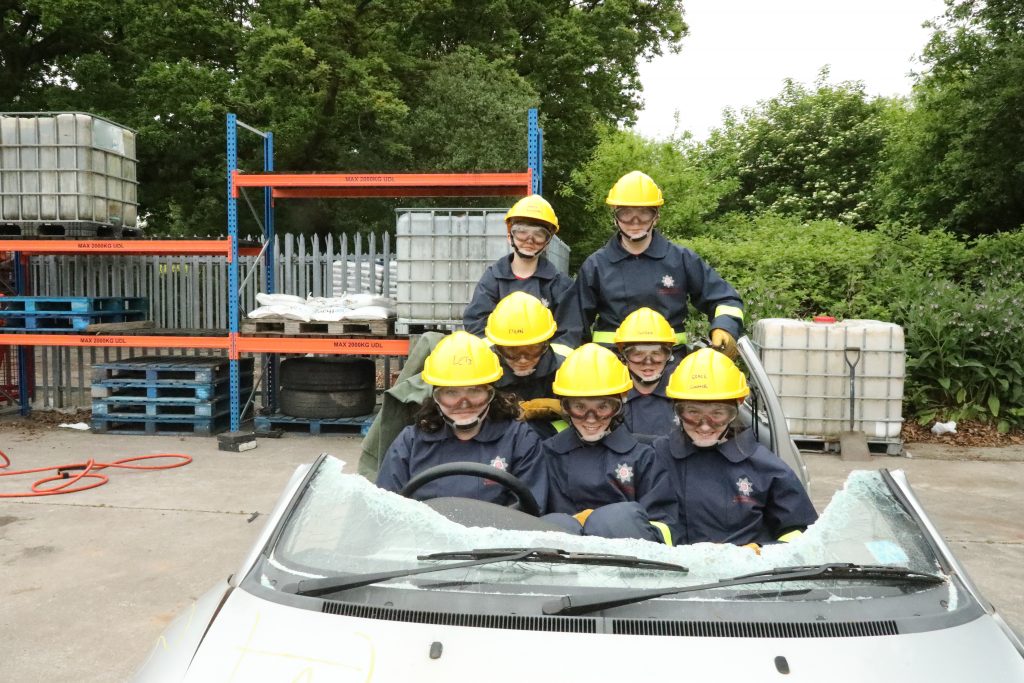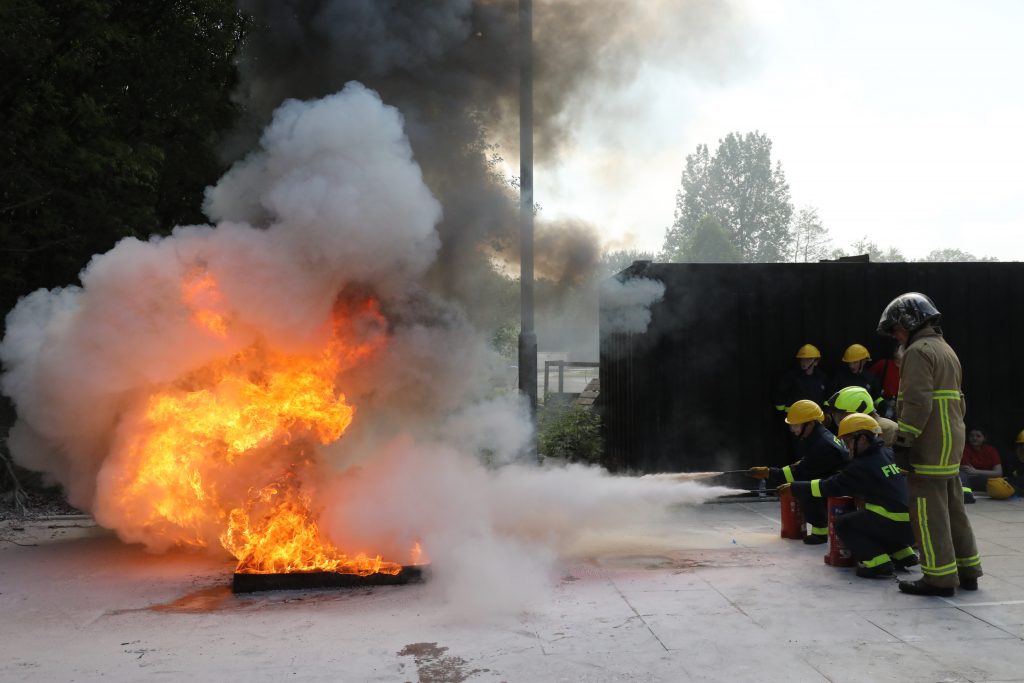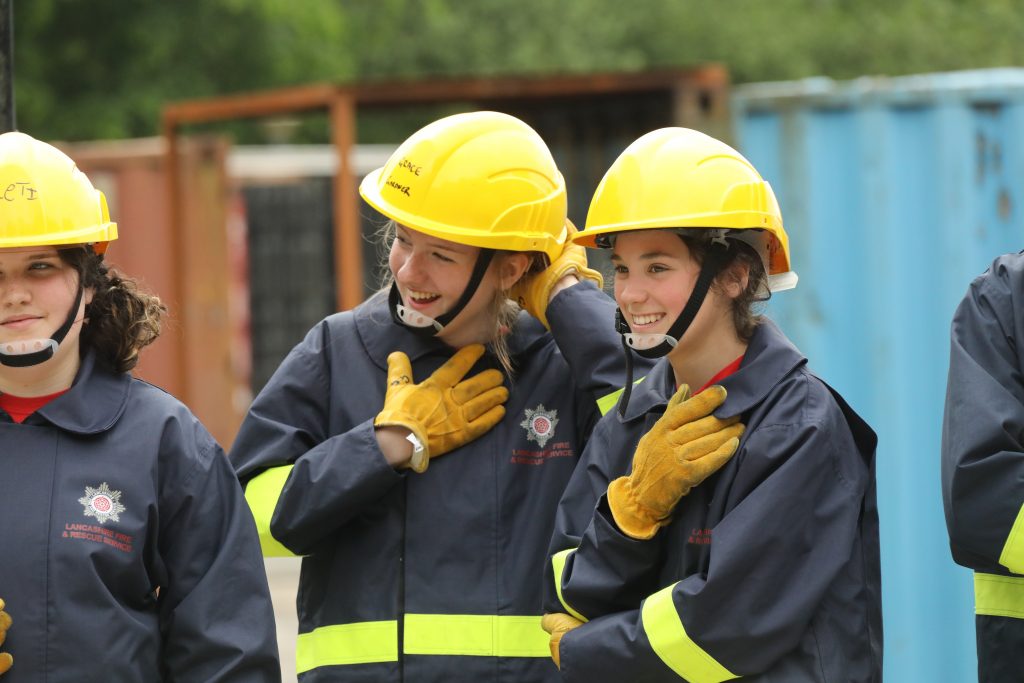 Where are the cadet units located?
Currently, we have fire cadet units located in:
Carnforth Fire Station (Market Street, Carnforth, LA5 9JU) Runs every Wednesday 15:30 – 17:30hrs
Preesall Fire Station (Sandy Lane, Preesall, FY6 0EJ) Runs every Wednesday 18:30 – 20:30hrs
Skelmersdale Fire Station (Tanhouse Road, Skelmersdale, WN8 9NN) Runs every Tuesday 17:00 – 19:00hrs
Preston Fire Station (Blackpool Road, Preston, PR1 6US) Runs every Thursday 15:45 – 17:45hrs

Darwen Fire Station (Union Street, Darwen, BB3 0DA) Runs every Tuesday 16:30 – 18:30hrs
South Shore Fire Station (St Anne's Road, Blackpool, FY4 3AP) Runs every Wednesday 18:30 – 20:30hrs
Burnley Fire Station (Belvedere Road, Burnley, BB103AA) Runs every Wednesday 18:15 – 20:15hrs
How can I apply to become a fire cadet?
Applications for fire cadets open in May, however anyone expressing an interest is encouraged to get in touch with their local fire cadet unit at the fire station. The process involves completing a fire cadet application form, demonstrating why you feel you would make a good cadet.
Once completed, you return your application form to the Fire Cadet Coordinator by email or post to Beth Palmer, Fire Cadets, Lancashire Fire and Rescue Service Headquarters, Garstang Road, Fulwood, Preston, PR2 3LH). If your application is successful, you will be invited to an informal interview at your local fire station.
Please note: As our programme is very popular and fills up quickly, early application is advised to avoid disappointment. If all places are full at your preferred station, please contact your local station to get your name added to the waiting list.
Find our application form: LFRS Fire Cadets Application Form (May 2019)
Why not volunteer to work with our Cadet units?
We always welcome applications from individuals (18+) who wish to volunteer to work alongside our staff with our Fire Cadet Units. Click here to discover what volunteer opportunities we currently have available in your area!
*Please note, all our volunteers are subject to an Enhanced DBS check.