Firefighters from Lancashire Fire and Rescue Service (LFRS) have taken on a huge sporting challenge to raise money for local charity, Doherty's Destiny, to raise awareness for mental health and suicide prevention by walking the three peaks…and cycling between them!
Christopher Horner (Garstang Fire Station), Samantha Stuart (Blackpool Fire Station), Peter Waywell (Bispham Fire Station) and Phill Beard took on the challenge of walking the three highest peaks in England, Wales and Scotland with the additional challenge of cycling between them.
Doherty's Destiny is a local charity that was borne from tragedy. Currently, 200 teenagers a year take their own lives. James Doherty committed suicide at the age of 16 and his Mum, Joanne created this charity to encourage positive mental health and help parents of suicide. Tragically one of the original riders of this group, Dave, took his own life shortly before the challenge which is when Sammie stepped in and made the challenge even more poignant.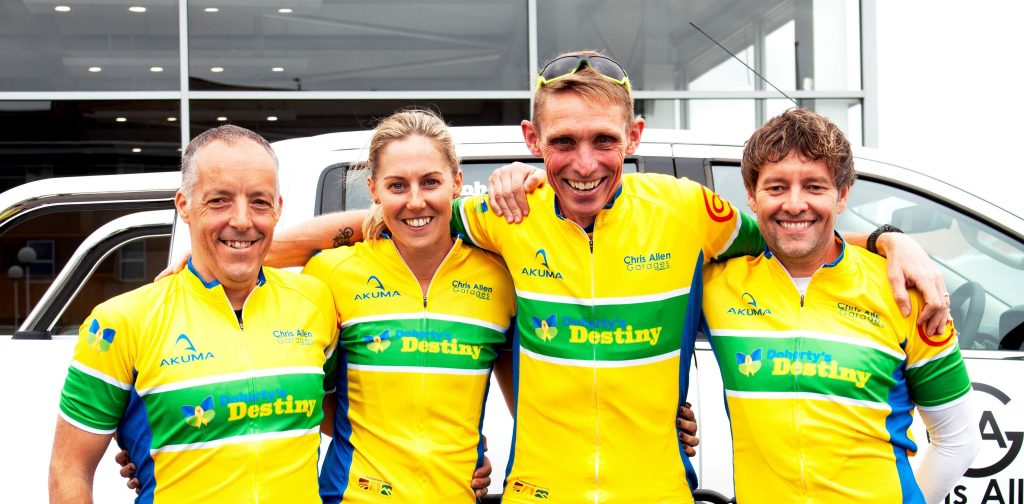 The foursome successfully completed their challenge in 63 hours having set off from Snowdon at 05:30 on Saturday 13 July. They endured a route of 421 miles of cycling with 4,000m ascent and 3,500 metres of mountain running. They are now the first and current record holders of a mixed team to compete this challenge.
The team are just shy of their £5,000 target but hope that other people will hear about their achievement and be able to spare a couple of pounds to show their support.
The team of four held an event at Morrison's Cleveley's store two weeks before the challenge where they shared road safety and cycling safety advice to shoppers and also kick-started their fundraising by cycling 125 miles on watt bikes.
Pete Waywell said: "we're grateful to everyone who has supported and donated to our cause. A big thanks to Chris Allen garages, Garstang for the transport and clothing donation, Goodman Harrison and Morrison's Cleveley's for the food and fuel. And another big thanks to the support team who helped is enroute – Kirsty Waywell, Peter Allen, Paul Simpson, Marie Meldrum – you were amazing."
The link to the JustGiving page can be found here.