Lancashire Fire and Rescue Service loves to share the love and have this week sent a packet of Love Heart sweets to every member of staff thanking them for their commitment to the job and asking them what they love most about their work.
We encourage others to share the love this Valentines' Day but to do so safely if pulling out all the stops to impress someone at home. Wine, romantic candles and cooking are not only a recipe for love but could also spell a recipe for disaster.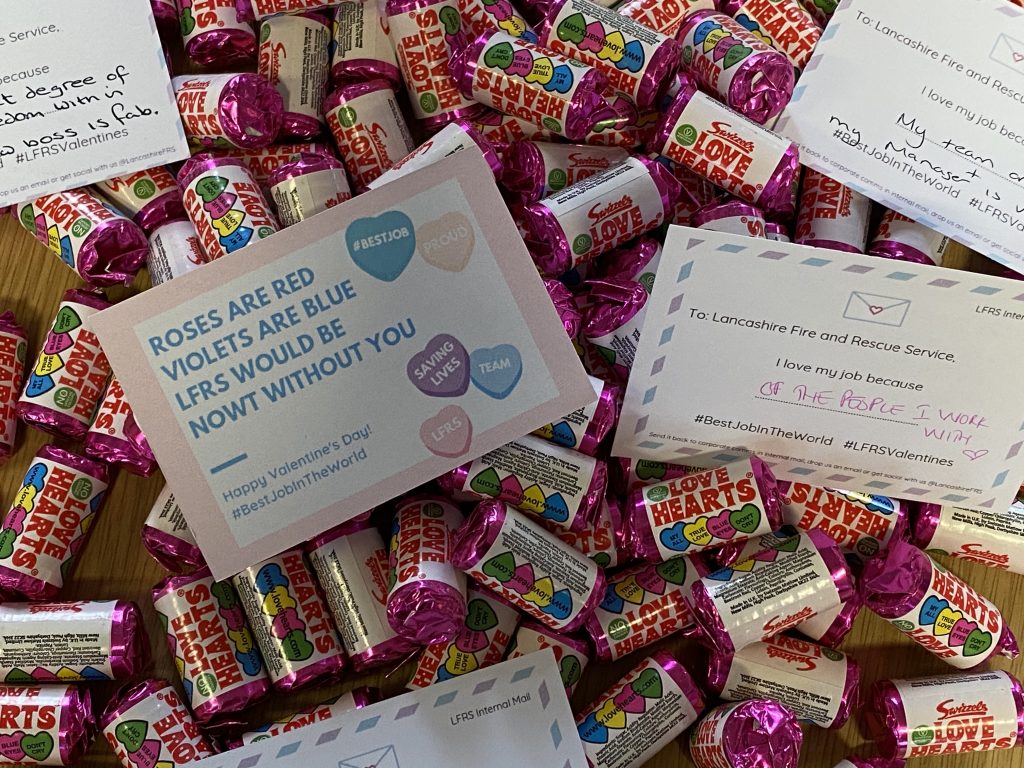 Here are our top tips for having a hot date that doesn't end in disaster.
Swap candles for battery-operated lights, using flameless candles means you won't have to worry about knocking them over or leaving them unattended.
Make sure you put out any candles, incense and oil burners when you leave the room, especially before bed.
Never leave used matches (or other items) in, or on, a candle after lighting it. It could produce two flames and cause the candle to burn in a dangerous way.
Metal holders that come with tea light candles are not suitable candle holders. Always place tea light candles in non-combustible holders on a steady surface.
Keep areas clutter free- large amounts of combustible materials, like paper, can catch fire easily and cause fires to spread quickly.
Don't place candles, incense sticks or oil burners near materials that can easily catch fire, like curtains or carpets. Also, keep candles away from strong drafts e.g. open doors or windows. Don't put candles on the bath or on top of the TV
Test your smoke alarms are in working order. Heat alarms work better in kitchens as they will detect a rise in temperature caused by fire but won't be set off by everyday cooking.
If you're cooking up a romantic meal at home, keep tea towels, cloths and loose clothing away from the cooker and hob.
Don't leave cooking unattended- if you leave the kitchen, turn off heat.
And from everyone at Lancashire Fire and Rescue Service Happy Valentine's Day!