Lancashire Fire and Rescue Service (LFRS) have been taking part in a tree planting project in association with The Woodland Trust and the Smithills Estate in Bolton following the devastating widlfires which damaged the habitat in summer 2018.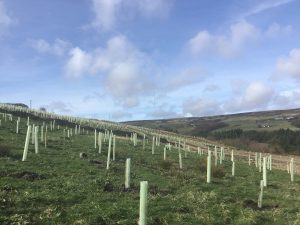 Crew from Bacup Fire Station as well as Bacup fire cadets took part in tree planting at Smithhills on Friday 15 March which was a fitting tribute as Bacup, due to crewing the specialist wildfire vehicle with Rawtenstall station, were the station who spent all 41 days of the Winter Hill wildfire tackling the blaze in what was very hot and tiring conditions.
The Community Tree Planting Weeks, organised by Smithills, and in partnership with the Woodland Trust, invited volunteers to be part of a project to plant 28,500 trees at the site throughout the month of March to double the woodland cover. The new trees will not only provide increased woodland habitat for wildlife at Smithills but also act as a natural flood defence and keep the higher moorland wetter which is hoped that with effective land management will help to prevent wildfires in the future.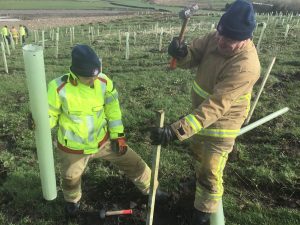 Group Manager, Shaun Walton, from Lancashire Fire and Rescue Service said: "We spent 41 days tackling the wildfire at Winter Hill and sadly some trees and wildlife were destroyed in the fire. It is really humbling that we have been invited back to the site to plant trees and a good way to mark renewal and regeneration in the area. We look forward to seeing activities supporting Winter Hill, over time being restored to its former glory providing a beautiful backdrop to Lancashire, that our community can enjoy and where wildlife can thrive."
Shaun is also the National Fire Chief's Council Wildfire Deputy Chair and Wildfire Tactical Advisors lead and has recently spent six days in Mafra, Portugal with his Bacup colleagues undertaking shared learning on wildfire prevention and management with the Pau Costa Foundation.
Wildfires can occur in the countryside, on moorlands or forests due to carelessness or deliberate ignition or naturally. Following an unusually warm February LFRS are hoping that people are aware of how dangerous and devastating wildfires can be and hope they are more vigilant in forthcoming warmer weather.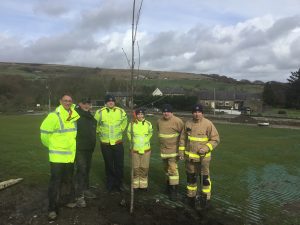 There are a number of steps you can take to prevent wildfires that are as simple as ensuring that cigarettes are discarded properly and fully extinguished, don't light BBQ's or campfires on moors or besides vehicles, ensure you take any litter home with you as glass bottles and broken glass can magnify in the sun and start a fire and talk to young people about the dangers of lighting fires.
If you see a wildfire please immediately contact the Fire Service on 999 and move people to a safe area away from the direction the fire is travelling. If you are out walking try and give a map grid reference if possible or a nearby landmark and estimate the size of the area that is burning. Consider the weather as strong winds can mean that the fires move across moorland quickly, and hills as fire will travel much quicker uphill than on level ground putting walkers in danger without any warning. And only if it is safe to do so, meet firefighters on arrival to provide any further information that you might have.