Lancashire Fire and Rescue Service is calling for people to stop using disposable barbecues in the countryside following two large wildfires in the county.
The first fire broke out on Darwen Moor on Saturday night after a disposable barbecue set surrounding grass alight and spread quickly across a vast area of the moors. On Sunday afternoon, a fire involving a tree plantation at Longridge Fell was believed to have been started by a campfire.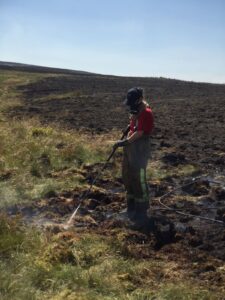 A major incident was declared as the Service also dealt with large grass fires at Winter Hill in Rivington and in Haslingden, along with multiple smaller fires across the county.
Justin Johnston, Chief Fire Officer, said: "I'm calling for people to stop using disposable barbecues in the countryside to reduce the amount of harm caused by wildfires.
"Wildfires are easily started and can spread rapidly putting people, property and infrastructure at risk. The terrain makes them challenging to firefight and demands large amounts of resources from the service and our partners.
"Lancashire knows only too well the devastating effects of wildfires following a fire on Winter Hill near Bolton in summer 2018 which destroyed 18 square kilometres of moorland. Despite this, we continue to experience avoidable fires in open spaces across the county, causing long-lasting harm to wildlife, habitats and biodiversity.
"I believe that the threat to the environment and our communities can be significantly reduced if people enjoy Lancashire's great outdoors without using disposable barbecues."
Firefighting has now ended at the Longridge Fell and Darwen Moor incidents and the major incident was stood down on Wednesday. At their height, both incidents were attended by ten fire engines, approximately 60 firefighters, along with specialist units and vehicles.
Firefighters were supported by multiple partners including United Utilities, Lancashire Police, Community 4×4 Response, Bolton Mountain Rescue and neighbouring fire and rescue services.
Justin added: "I'd like to thank all of our partners who supported the response to these incidents along with our firefighters and support staff who have worked long hours and in difficult conditions."
Please look after Lancashire's countryside if you're out enjoying the moors, forests or woodland areas. Never be tempted to light a barbecues or campfire in the countryside. Dry and warm weather condition make it easy for fires to spread and they quickly burn underground in the peat and well as on the surface. Discarded cigarettes and litter such as glass bottles can also easily start a fire.
More Info:
Lancashire Fire and Rescue Service has attended 80 fires in moorlands, grasslands or woodlands between 1 March and 31 May 2020. This is an increase of 10 incidents on the same period in 2019.