On Wednesday 13 May HM Government announced that some lockdown rules in England would be relaxed allowing people to spend more time outdoors. For Lancashire this may mean more travel on our roads and ultimately visits to some beauty spots and Lancashire Fire and Rescue Service (LFRS) are keen to encourage people to do so safely.
Whilst some sports and activities are starting on the long road back to 'normality' there are some activities that LFRS would urge people to take extra care doing and in some cases just not risk doing them at all. Usually during the Spring and Summer months and upcoming Bank Holiday weekends LFRS would be supporting two campaigns that they feel very strongly about.
Firstly LFRS want to make people aware of the dangers that wildfires can not only bring to people but also property, livestock and the environment and take firefighters away from towns and cities where they may be genuinely needed.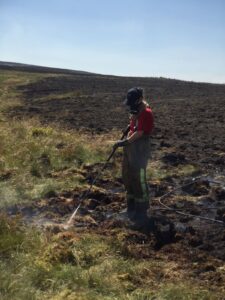 Wildfires can occur in the countryside, on moorlands or forests due to carelessness or deliberate ignition or naturally. Following an unusually warm March and April the grass and vegetation is now tinder dry and LFRS fear that with lockdown restrictions easing people will flock to Lancashire beauty spots with BBQs or the intent on lighting fires.
Group Manager, Shaun Walton, from Lancashire Fire and Rescue Service said: "Despite the coverage from the Winter Hill fire, that we spent 41 days tackling in 2018, and the thousands of messages of support LFRS received from the public, we were disheartened to have attended other wildfires, some of which that were started deliberately in 2019 and early 2020."
There are a number of steps you can take to prevent wildfires that are as simple as ensuring that cigarettes are discarded properly and fully extinguished, don't light BBQ's or campfires on moors or besides vehicles, ensure you take any litter home with you as glass bottles and broken glass can magnify in the sun and start a fire and talk to young people about the dangers of lighting fires.
Lancashire Fire and Rescue Service have the skills and knowledge to extinguish a wildfire should one start but ultimately want the people who maliciously set grass and moorland on fire to realise that whist crew and resources are being deployed to remote parts of Lancashire to extinguish the fires the perpetrators themselves or their family back home in towns could be in danger. Deliberate fires can cost lives.
If you see a wildfire please immediately contact the Fire Service on 999 and move away from the direction the fire is travelling. If you are out walking try and give a map grid reference if possible or a nearby landmark and estimate the size of the area that is burning. Consider the weather as strong winds can mean that the fires move across moorland quickly, and hills as fire will travel much quicker uphill than on level ground putting walkers in danger without any warning.
Secondly the Be Water Aware campaign is a national campaign which aims to highlight the risk of accidental drowning. Following the recent government announcement the public have greater opportunity to exercise out in the open. Swimming pools, however, remain closed which may lead to some finding open water as a suitable alternative.
Combined with the current spell of warm weather, this could have fatal consequences as there are those who will put themselves in danger by cooling off in rivers, lakes and reservoirs.
Across Lancashire, those who need to cool off or simply exercise are entering dangerous waterways with no knowledge of what lurks below the surface. Furthermore, the ice cold nature of the water in relation to the air temperatures can lead to cold water shock – a potential killer. Cold water shock can affect everyone, even strong swimmers and the young and fit as they cannot control their body's reaction, often resulting in a heart attack.
Few people will know that as well as drowning the water has many other hidden hazards such as trachoma, Cyptosporidium, Whipworm, Weils disease and Circum rescue collapse – all of which would mean a trip to hospital and in the case of circum rescue collapse potentially death from cardiac arrest.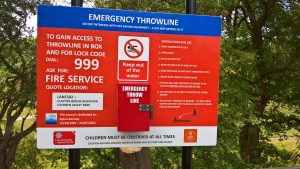 Group Manager, Mark Hutton, from Lancashire Fire and Rescue Service said; "people may be surprised to hear that firefighters deal with water rescues but we have six stations around the county that specialise in swift water rescue and two with specialist boat crews. Due to the nature of drowning incidents prevention is always far better than cure as no matter how fast the emergency response is sometimes we just cannot get to the location of people in difficulty fast enough. As well as people purposely going swimming, half of accidental drownings happened when people didn't even intend to go into the water with activities such as walking your dog or running along a canal putting people at risk."
Lancashire Fire and Rescue Service would like people to know some basic water safety information related to the #BeWaterAware campaign:
Don't assume you're not at risk of drowning just because you don't intend to go into the water
If someone falls into water call 999. Advise the casualty to try and float on their back and relax. Try and shout for help nearby and throw them something to either drag them to safety or to aid them to float like a ball. Clothes such as scarves, or long sticks could be used. If you do this, lie on the ground so your entire body is safely on the edge and reach out with your arm. Don't stand up or lean over the water and never enter the water yourself to try and save someone.
Ensure children are fully supervised near water or around ponds and paddling pools
Do not enter the water if you have been drinking or taking drugs
If you are going running alone try and tell someone where you are going
When fishing, check that the spot you have chosen is safe and tell someone where you are going. Remember that riverbanks can erode
Avoid throwing sticks or balls near water for dogs – they will go after something if they think you want it back, even if you've thrown it too far or into dangerous water. Never enter the water to try and save a dog – the dog usually manages to scramble out.
If you manage to get the person out of the water, they will always need medical attention. Even if they seem fine, drowning can occur at a later stage if water has already entered the lungs.
Find out more by visiting the NFCC website
Lancashire Fire and Rescue Service have many employees who find joy in exercising outdoors for their mental and physical wellbeing and understand that many people will want to rush out and do the same this weekend. However we ask you to do so safely, considerately and following the Government social distancing guidelines. Now is also a timely reminder to check that your vehicles and tyres are roadworthy following a lengthy period of not being used to ensure that if you are driving to exercise you get there and home safely.
Stay Alert, Control the Virus, Save Lives