FF Eve Davenport is an on-call firefighter at Ormskirk Fire Station. She is new to the role after passing out from her training course in June. Eve will now juggle her on-call commitments with her studies at Edge Hill University where she will study for a masters in Injury Research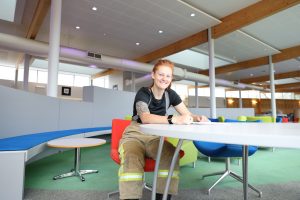 .
Eve said: "I would definitely encourage someone to become an on-call firefighter. I saw signs outside the station advertising the role and made the decision to speak to someone to find out more. The crew were so friendly and helpful that I decided to apply. The two week training course was hard but I am so proud to be a firefighter and the hours fit in well around my studies. The role complements my studies in sports therapy especially learning about first-aid which will be useful at incidents but also helping people who have sustained injuries from sport. When I've developed more in my role and learnt more I would like to spend some time doing some community fire safety work."
On-call firefighters respond to incidents via an 'alerter' and must live or work five minutes from the station. They must also attend a drill night once a week where they keep their skills up-to-date and train with their fellow on-call colleagues. Eve chooses the on-call hours she works to fit around her University timetable.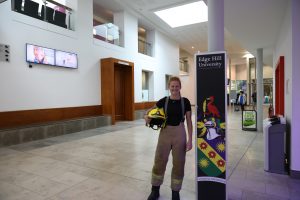 Whilst Edge Hill University is based in Ormskirk it is outside of the five minutes on-call zone so she 'books on-call' when she is at home, on weekends and evenings. Eve can then go on additional courses throughout the year if she wishes to gain further skills like water rescue, large animal rescue and even gain the qualification to be able to drive the fire engine!
Eve continued by saying: "I never thought I would become a firefighter but it feels absolutely right and I think more people should apply if they live or work nearby and have the time to. I work with a great bunch of people who are really supportive and there is no difference with me being female. If I can do it, anybody can."
To find out more about on-call recruitment click here.
To find on-call vacancies in your area click here.