Lancashire Fire and Rescue Service is reminding local householders to ensure their chimney is fire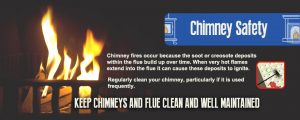 safe as part of National Chimney Fire Safety Week (3rd-9th September).
Open fires not only warm up a home, but also create a unique relaxing ambience. With the numbers of people using open fires growing, Lancashire Fire and Rescue Service has provided some top tips for safer chimneys.
Always use a fireguard to protect against flying sparks from hot embers
Make sure embers are properly put out before you go to bed
Keep chimneys and flues clean and well maintained
Lancashire Fire and Rescue Service's Group Manager for Prevention, Protection and Road Safety, Tony Crook explains:
"With the colder, winter months looming, people will begin to start using open fires and their chimneys again. In order to keep you and your family safe from fire, you need to take necessary steps such as ensuring your chimney is swept regularly, depending upon what fuel you burn and I would urge all householders to have a working smoke alarm in their home."
Sweeping frequency recommendations:
Smokeless coals -at least once a year
Wood – up to four times a year
Bituminous coal – twice a year
Oil – once a year
Gas – once a year
Tony adds:
"Latest statistics show that there are approximately 6,000 chimney fires a year in England, but most chimney fires are preventable."
Chimneys should be swept by a competent contractor to BS6461. For details contact the National Association of Chimney Sweeps on freephone 0800 833464 or visit www.nacs.org.uk.
Lancashire Fire and Rescue Service also offers free Home Fire Safety Checks, where we will give targeted advice to householders. To book, call freephone number 0800 1691125 or visit www.lancsfirerescue.org.uk