Lancashire Fire and Rescue Service have been assisting in Lancashire's vaccination programme since December 2020 and are continuing to assist now the mass vaccination sites have opened across the county. We have staff from a variety of roles such as support staff, Community Safety staff and firefighters working at the sites. Some staff are welcoming people, undertaking marshalling and care duties and even some of our staff are now delivering the vaccine (after some intense training of course!).
We wanted to share with you some of the stories from staff who are working at the sites so you know a little more about our involvement!
We'd like to share with you Faz's story who is a one of our Community Safety Advisors based at Preston Fire Station.
"Receiving the email looking for volunteers seemed like a golden opportunity to help out in the vaccination programme. Throughout the pandemic I have been heavily involved in helping my community with food drops for the homeless and elderly with various charities I am involved in like Benefit Mankind and One Voice Blackburn so this felt like a natural continuation. I have really good relationships with people in the community not just from my role as a Community Safety Advisor (CSA) but from the volunteering I do in my spare time too. For thirty years I have been changing the clocks in the homes of the elderly every March and October and this was the first year that I was unable to undertake this task. I could see how much this was going to affect the 100 older people I look after so as soon as lockdown rules allowed I went back into their homes to give fire safety advice, help them reconnect, helping them move to a digital landscape, teaching them about Zoom calls and whatsapp!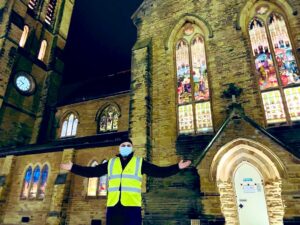 "I am very close to my family and my Grandfather was set to receive his vaccine on the 18 December. He sadly did not reach this landmark date and passed away three days earlier after contracting coronavirus. He had been excited to receive his vaccine and had been telling a lot of his friends within the Asian community to go when they were called to do so. Therefore, getting involved in the vaccination programme seemed like something he'd have wanted me to do and I did my first volunteering shift on the 22 December in Darwen. I have met and spoken to lots of people who have come for their vaccine and the one thing I have noticed is the feelings of hope. People aren't just getting the vaccine for themselves but for their loved ones and their community to ensure we get back to normal and that has seemed like such a selfless thing to do. What has been lovely is that I've spoken to people from Finland and Panama to New Zealand that are now residents in the UK and that really resonated with me from when my Grandfather moved here in 1961. It just goes to show what a diverse county we live in and I've spoken to lots of interesting people whilst they have been waiting in the queue. I speak fluent English, Arabic, Gujarati and Urdu which has also come in handy when working at the vaccination sites and have been able to help translate for the NHS nurses or provide reassurance. I will put Finnish and Spanish on my list to learn next!
"I have continued to volunteer around my CSA hours and have actually worked in many of the sites now from Blackburn, Burnley, Nelson, Lancaster and Preston working alongside new and old faces from LFRS along the way which has been great to reconnect. I am proud to volunteer wearing my LFRS uniform, explain to people why the Fire Service is involved in the vaccination programme and give fire safety advice to people waiting in the queue too! I am proud that I am ensuring as many people as possible, and as many people from a BAME background, are able to get the vaccine and hope that the work I am doing encourages as many people as possible to do so. It's what my Grandfather would have wanted and I am proud to be able to do this in his memory."
Don't forget that you will be contacted by the NHS or your GP in regards to attending your vaccine appointment. They are prioritising the vaccine for those who need it most and based on national guidelines. If you attend the site without an appointment you will be turned away.
Please remember that vaccines, especially the first dose, is not the time to become complacent. People need to continue to practice basic hygiene, social distancing and following local and national lockdown advice.