Lancashire Fire and Rescue Service have been assisting in Lancashire's vaccination programme since December 2020 and are continuing to assist now the mass vaccination sites have opened across the county. We have staff from a variety of roles such as support staff, Community Safety staff and firefighters working at the sites. Some staff are welcoming people, undertaking marshalling and care duties and even some of our staff are now delivering the vaccine (after some intense training of course!).
We wanted to share with you some of the stories from staff who are working at the sites so you know a little more about our involvement!
We'd like to share with you Firefighter Dave Noddle's story who is a firefighter at Chorley and part of the Urban Search and Rescue Team.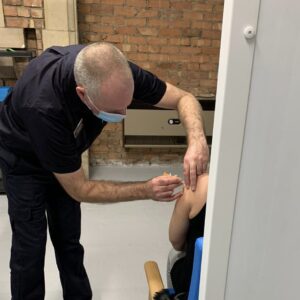 "After 28 years' Service I was due to hang up my boots and retire on the 23 January however the Coronavirus changed those plans. When I saw the email come out asking for volunteers it seemed the right thing to do and I decided to postpone my retirement and train to become a vaccinator. Not only did I ever think I'd be doing anything like this but I also thought I'd put all my studying days behind me so it was a shock to the system to start on this intense course. That said, the saying that 'you're never too old to learn' is absolutely right and the benefits of undertaking the training has been worth it.
I have now been seconded to work at the mass vaccination sites and I couldn't think of a better way to see out my career. I feel honoured to be part of the programme and there have been many feel good moments when delivering the vaccine to Lancashire's most vulnerable. There's a great feeling at Blackburn and a real team effort working alongside NHS colleagues. Not only that I'm working with colleagues I've not seen for years or meeting new faces as staff from across the organisation have come together to be a part of this vaccination rollout. I've even been able to vaccinate someone I know which was nice to see a friendly face and know directly how the vaccine was helping someone!"
Don't forget that you will be contacted by the NHS or your GP in regards to attending your vaccine appointment. They are prioritising the vaccine for those who need it most and based on national guidelines. If you attend the site without an appointment you will be turned away.
Please remember that vaccines, especially the first dose, is not the time to become complacent. People need to continue to practice basic hygiene, social distancing and following local and national lockdown advice.