Lancashire Fire and Rescue Service have been assisting in Lancashire's vaccination programme since December 2020 and are continuing to assist now the mass vaccination sites have opened across the county. We have staff from a variety of roles such as support staff, Community Safety staff and firefighters working at the sites. Some staff are welcoming people, undertaking marshalling and care duties and even some of our staff are now delivering the vaccine (after some intense training of course!).
We wanted to share with you some of the stories from staff who are working at the sites so you know a little more about our involvement!
First up, is Kelly, a Community Safety Advisor, based at Preston Fire Station.
"I love working with a diverse range of people from different communities, which is why I joined the fire service.
Back in March when our normality came to a grinding halt, work for me changed drastically. Before the pandemic, I would go into homes and engage with individuals and various groups on a personal level. We quickly adapted to live in a pandemic and my workload changed to delivering resources such as smoke alarms to people's door step, checking on vulnerable people from a safe distance, listening to their concerns, and lending an ear when someone had suddenly lost a loved one and just being there for a chat on the phone. I went from hands on contact to safe social distancing and although this work was still vitally important, I felt I wasn't operating at full capacity and I had more to offer.
So, when the opportunity arose to collaborate with the NHS to support the vaccination roll out, I couldn't say no.
I have been redeployed to working as part of the vaccination programme whilst still doing some community safety work on my days off where people are the most vulnerable or high risk. My days are now spent reassuring vulnerable elderly people who when they arrive for their vaccine are feeling anxious as they haven't been out in so long, yet are so grateful that they were going to receive their vaccinations and there is a little bit of light forming at the end of the tunnel for them.
My new daily tasks became the simple yet most crucial things like making sure correct masks were worn to keep everyone safe, taking temperatures, handing out sanitiser, directing people, filling out their information and simply having a well needed socially distanced chat.
Listening to the consistent 'thank you's' and appreciation from 100's of people on a daily basis regarding the hard work and involvement the fire service are providing to assist the NHS is simply amazing.
I have now completed all the relevant training and skills to go that one step further in the fight against COVID-19 and can now administer the vaccinations.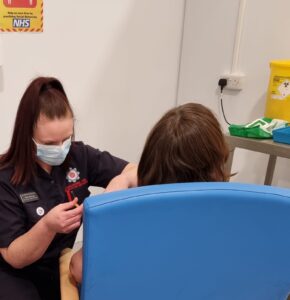 I've administered over 200 so far! It's been an honour to work with the NHS and other agencies during the continued battle of this global pandemic, helping to save lives and in time get people's lives back on track. The vaccination sites are operating at different hours to what I'd usually be working so it has taken a bit of juggling but when I am not working I'm putting my teacher hat on and home-schooling my children! My children are aware of what I am doing and have said how proud they are of me and all the work that has been going on to put an end to this virus. If I needed another reason to continue with what I'm doing, that is it!"
Don't forget that you will be contacted by the NHS or your GP in regards to attending your vaccine appointment. They are prioritising the vaccine for those who need it most and based on national guidelines. If you attend the site without an appointment you will be turned away.
Please remember that vaccines, especially the first dose, is not the time to become complacent. People need to continue to practice basic hygiene, social distancing and following local and national lockdown advice.