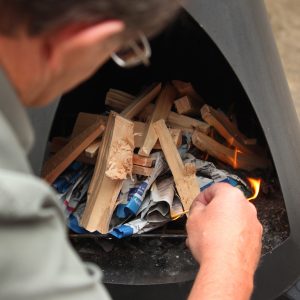 The recent spell of warm, sunny weather certainly entices us to spend more time outside and it's the perfect opportunity to fire up the barbecue, spend time with friends and enjoy it while we can. Then, as the sun sets and the temperature drops what could be better than huddling round your chiminea to keep the party going?
Barbecue safety has always been a priority for the fire and rescue service during periods of warm weather; but in more recent years the increase in popularity of the garden chiminea means we also need to ensure their safe use is promoted too.
Firefighters know about the dangers of both barbecues and chimineas all too well. On Sunday afternoon, a crew from Fulwood were called to an incident on Leadale, Preston after a man used petrol to re-light a chiminea. Although the fire was out, the heat from the cast iron in the chiminea caused the petrol to ignite. Fortunately, the injuries sustained were not life changing although the man did need an overnight stay in hospital.
The serious nature of this incident has prompted the fire service to issue warnings to the public not to be complacent about barbecue and chiminea fire safety.
Head of Service Development for Lancashire Fire and Rescue Service, Area Manager Ben Norman says:
"It's understandable that people can't wait to get outside, light the barbecue and enjoy the warmer weather with family and friends and we know how tempting it can be to give stubborn coals or dying fires a helping hand, but please be patient and make sure you use the right tools for the job."
"There have been numerous occasions where people have used petrol and other flammable liquids  in an effort to get things moving quicker and the reaction has, not surprisingly, been violent and dangerous and in some instances resulted in severe injuries."
"Chimineas on the whole are very safe as they enclose the majority of the flame, however people need to realise that the heat and flames from burning wood can still be dangerous if they are used incorrectly."
Top tips for chiminea and barbecue safety:
Have a safe set up – avoid placing your chiminea on decking or near trees and structures. Ensure also that it is stable and secure on its stand so as to minimise the risk of it toppling over.
Never use chemicals such as petrol to start your fire, instead use kindling to create small fire and then slowly add the larger wood.
Ensure your chiminea has a fire guard, if it did not come with one, you can easily make one yourself using mesh wire. The guard will then prevent any hot embers escaping and possibly burning someone.
They're too hot to handle – so make sure children are properly supervised and warn your guests of the dangers too.
Build small fires – chimineas are designed for small fires, not big ones, so if you see flames coming out of the chimney or mouth it is too big.
Protect your chiminea – depending on the style of your chiminea the weather can have an adverse effect on it and may cause it to crack or break; so consider covering or storing your chiminea during the winter months.
Watch it burn – never leave a fire unattended, whether it is a barbecue or in a chiminea
Enjoy yourself, but don't drink too much alcohol if you are in charge of the barbecue or fire and keep a bucket of water, sand or garden hose nearby just in case.
Ben goes on to say; "This may seem like a long list of do's and don'ts and many of them may sound like common sense but we would ask people to remain vigilant when using barbecues or chimineas because fires can easily take you by surprise when you get complacent."