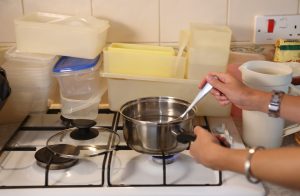 Lancashire Fire and Rescue Service have been campaigning to get Lancashire cooking more safely. This campaign aims to address 'cooker clutter' raising awareness of just how often fires in the home start with the accidental ignition of items that are stored on cooker hobs or in ovens.
Often, kitchen fires are breaking out because items are left or stored too close to heat sources such as hobs and ovens, which are then accidentally turned or left on. Keep it Clean, Keep it Clear aims to warn people about the hazards of cooker clutter and hopefully encourage people to clear the clutter all together.
Of course, keeping cookers clean is also an important aspect of this campaign. It's not uncommon for people to store grill pans and baking trays in ovens, but again if they get accidently left in when the oven is switched on it can increase the risk of fire. Particularly if they aren't properly clean, as the build-up of grease and food residue can easily ignite.
Graeme Spencer, the Crew Manager from Ormskirk Fire Station said:
"In West Lancashire, there have been eight cooking fires since April caused by residents using their hobs as work tops. There have been incidents which have involved a cooker with pans, boxes and even irons stored on the back of the hob which had then been accidentally ignited by turning on the wrong dial on the cooker.
Graeme adds: "Turning on the wrong cooker dial is so easily done, but many of these fires would be so easily prevented too if people took heed of the Keep it Clean, Keep it Clear' message."
You can help reduce accidental cooking fires in the home, by keeping to the task at hand. It's so easy to get distracted or accidentally turn on the wrong cooker dial. Food residue and grease can easily ignite, so try to keep on top of your cooker cleaning and if you know someone who perhaps needs a nudge or reminder to do the same then spread the word, you could save them from having a fire.
 For further advice and guidance on fire safety in the home, including on cooking safety, you can visit: www.lancsfirerescue.org.uk/cooking.