Lancashire Fire and Rescue Service (LFRS) are supporting the Royal Life Saving Society (RLSS) Drowning Prevention Week campaign. The ten day campaign runs from 14 June – 24 June and is a national campaign which aims to reduce the number of drowning and near drowning incidences that occur.
LFRS will be focussing their efforts towards families spending the summer at home, families planning a holiday abroad and young people. RLSS statistics show that 700 people drown each year in the UK and Ireland and this number is far too high when some there is some simple water safety advice that can be followed.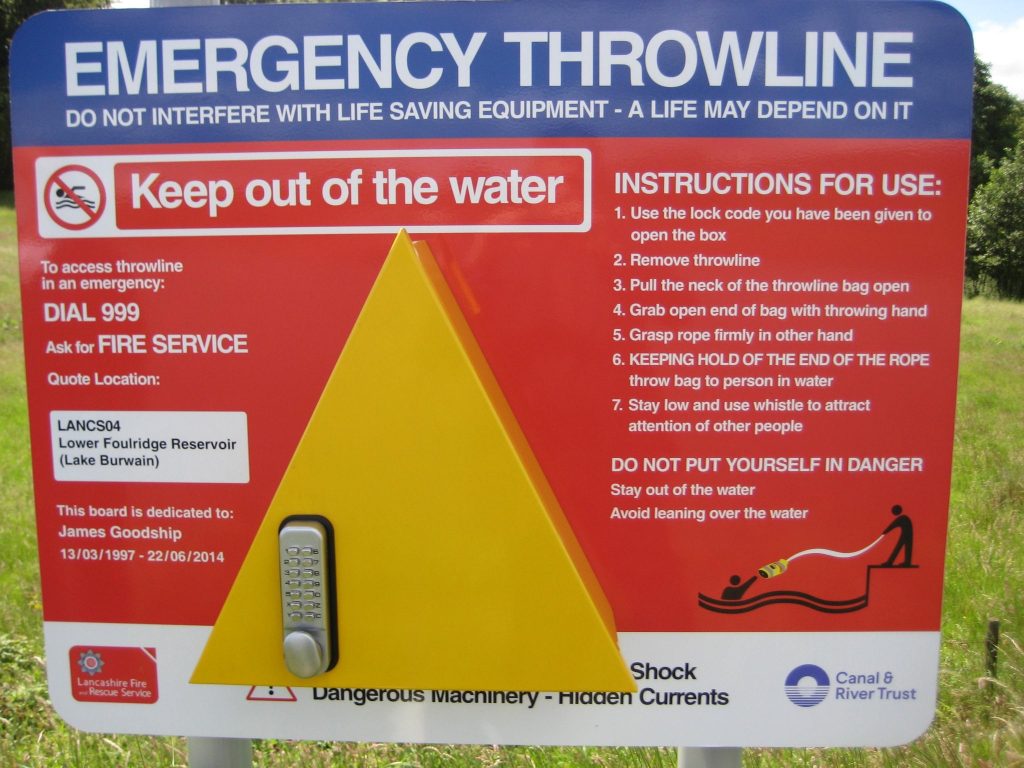 Group Manager Mark Hutton, from Lancashire Fire and Rescue Service said; "people might be surprised to hear that firefighters deal with water rescues but we have six stations around the county that specialise in swift water rescue and two with specialist boat crews. We wish to make people aware of the dangers of water for those who not only plan of holidaying in the UK but also on their summer holidays abroad either around the pool or near the sea."
The campaign with RLSS highlight water safety hazards such as paddling pools, ponds or buckets in the garden whereby there have been cases of drownings as well as having a safer bath time. Children should be supervised at all times and buckets, paddling pools and baths should be emptied as soon as they are finished with.
LFRS visit numerous schools in Lancashire leading up to the summer period sharing advice on campaigns such as 'Dying for a Dip' and 'What Lies Beneath' which highlight the dangers of open water swimming especially over the warmer months when water looks so inviting. There have sadly been incidents at well-known Lancashire sites where (mostly) young people have gotten into difficulty in open water due to fatigue, depth or cold water shock.
The summertime is a particularly dangerous time of year as air temperatures rise quickly but water temperatures remain so low that cold shock (the body's reaction to cold water that immediately causes breathing difficulties and muscle cramps irrespective of the fitness of the individual) is a very real risk; and one that children and young people are often unaware of. Cold water shock can affect everyone, even strong swimmers and the young and fit as they cannot control their body's reaction, often resulting in a heart attack.
During this campaign we are also remembering James Goodship who drowned at Foulridge Reservoir on 22 June 2014. His mother, Melanie, has been actively part of water safety messages in the local area and has been part of the project alongside LFRS and the Canal and Rivers Trust about installing water safety boards at key locations in Lancashire. To mark the anniversary of his death on Friday 21 June we will be unveiling boards at the site in his memory. The crew from Nelson Fire Station attended to do a water demonstration and show how the throwlines can be used.
Since August 2018 LFRS have installed seven water safety boards across the county at key high risk areas. They have then since worked with United Utilities, Canal and Rivers Trust and other private landowners and agencies to ensure that more water safety board's continue to be installed across the county. Six water safety boards are being installed at Foulridge Reservoir on Friday 21 June in association with Canal and River Trust and are being dedicated to James. Two of the boards will have throwlines attached and the other four will be information boards.
Mark continues by saying; "We are really pleased to see Canal and Rivers Trust deciding to install water safety boards and by doing so recognising just how important they can be in preventing loss of life, both in terms of the important safety messages they convey, and also their life saving function in the event of an emergency. Raising awareness of the hazards that water can present and we hope that this campaign, and boards like these, have a real impact on people's awareness of water risk as sadly every year we see loss of life which could be prevented through increased understanding and awareness."
Finally, Lancashire Fire and Rescue Service would like people to know some basic water safety information related to the #StopDrowning campaign:
Don't assume you're not at risk of drowning just because you don't intend to go into the water
If someone falls into water call 999. Advise the casualty to try and float on their back and relax. Try and shout for help nearby and throw them something to either drag them to safety or to aid them to float
Ensure children are fully supervised near water on holiday
Follow water safety advice from lifeguards on holiday and learn what the different flags mean
Do not enter the water if you have been drinking or taking drugs
Ensure paddling pools, baths and buckets are emptied of water at the end of use and children are supervised at home at all times
Never enter the water yourself to try and save someone