Staff from across Lancashire Fire and Rescue Service (LFRS) are working hard behind the scenes and on the front line to support the Coronavirus efforts across Lancashire.
Since the pandemic was declared back in March staff at LFRS launched into action to ensure they were the best trained, best equipped, best accommodated and most professional fire and rescue service in the country. It was decided that staff efforts would move away from business as usual work to focus on the Coronavirus, whilst of course continuing to deliver an emergency response. The Service has not had to reduce the services we offer because of staff absences since the lockdown began and have put measures in place to ensure staffing levels remain high.
The decision was made to cancel non-critical activity and instead focus our efforts into maintaining the delivery of core corporate services which are critical to the functionality of the Service, maintain the delivery of prevention and protection services in line with the advice from Public Health England, fulfill our statutory duty of supporting the Lancashire Resilience Forum and provide support, advice and guidance to our staff ensuring their safety and welfare is a priority.
Chief Fire Officer Justin Johnston said; "I am immensely proud of all my staff who are working hard on their efforts supporting the Lancashire Resilience Forum and the wider Coronavirus impacts. The amount of work that we are doing is beginning to make a visible difference to our local communities, including the distribution of food stocks for vulnerable people, the distribution of bulk PPE to care homes and engaging with at risk communities whilst also maintaining an emergency response. We are asking our staff to work in ways they haven't had to before but are doing so with professionalism and compassion. I have been greatly impressed by staff coming forward with ideas to help us and our communities during this unprecedented challenge and how we're working together to be part of the solution to make Lancashire safer."
Everything LFRS does as a Service is with the overall aim of 'Making Lancashire Safer' and work goes beyond sharing fire safety advice. Here's a round-up of some of the work LFRS staff are doing to meet demand and to support partners across the county.
Operational Firefighters
Staffing levels remain high and LFRS have set up a new absence reporting system to monitor staff absences to ensure the safety of them their families and colleagues whilst also ensuring they are back to work post absence as soon as possible.
LFRS have worked hard, alongside the Fire Brigade's Union (FBU), to ensure staff have appropriate levels of PPE and have issued guidance on how firefighters can protect themselves, socially distancing on fire stations and at incidents where possible, new cleaning procedures on station and for instructions for the cleaning of equipment and laundering of uniform.
LFRS have ceased all non-risk critical training at their training centre including planned recruitment courses and have made the decision that operational staff who were working in desk-based roles have undertaken training to enhance their skill-set and will be ready to return to operational roles should they be required. On 1 May sixteen on-call firefighters will also take up temporary posts in wholetime fire stations to support staffing levels whilst retaining their roles in the on-call posts when off-duty.
Testing for firefighters has now been introduced but thankfully due to low numbers of staff currently suspected of having COVID-19, only two members of staff have been referred for testing. LFRS is the National lead for testing working alongside the FBU and the National lead for Police, Lancashire Constabulary.
On-Call Firefighters
On-call firefighters usually meet as a group once per week however the decision was made to move to a local delivery model where staff will now meet on station in smaller groups to drill. On-call staff have been supporting prevention work by visiting key hot spot areas for wildfires, swimming and anti-social behaviour to share fire safety and water safety messages which have been a concern during this time.
Support Staff
Staff are working from home and some are undertaking roles in other areas of the organisation to support the Coronavirus crisis.
Staff in the ICT department collected 49 iPads to be donated to hospitals and hospices across the county to provide a form of communication between patients and families who are unable to visit those in Intensive Care wards suffering from Coronavirus and those in hospices receiving end of life care. We hope this donation goes some way of providing a little comfort to families trying to stay connected during this difficult and lonely time.
Staff are manning the 0800 Home Fire Safety Check number from home and offering advice and making referrals to Community Fire Safety Advisors or Firefighters where deemed critical. Anybody who doesn't receive a Home Fire Safety Check at this time will be contacted once lockdown is lifted.
The communications team are not only keeping the public informed of our incidents, safety advice and organisation direction but also keeping communication lines open and informed internally for staff with news articles, guidance documents, video meetings, video updates and advice on where staff can obtain support for mental health and welfare including a dedicated twitter account for health and wellbeing.
Lancashire Fire and Rescue Service is the biggest provider of Princes Trust programmes and unfortunately these have had to stop due to the Coronavirus. However staff have been working hard to launch a new virtual programme, starting the 11 May, for young people aged 16-25 who have been referred to the team from job centres, hostels, homeless centres and facebook. These young people will no longer feel abandoned but will be offered personal development and action planning, mental health and well-being support, tips on maintaining physical fitness and a healthy, balanced diet, next steps and career planning and British Values and citizenship.
Caroline Hooson, Youth Engagement Co-ordinator for LFRS said; "our focus is shifting to a new approach to ensure that as a department we are still able to reach and support some of the most vulnerable people in Lancashire during these challenging times. It is massively important to find ways of supporting young people who may have lost support and coping mechanisms elsewhere due to the current pandemic.
In a Young Minds Survey carried out at the start of lockdown, 32% of young people spoken to stated that the current situation had made their mental health much worse, with a further 51% agreeing that it had made their mental health a bit worse. This is a huge challenge, but with the support of our partner colleges we are determined to provide this much needed support for the young people of Lancashire."
Supporting the Lancashire Resilience Forum
LFRS have statutory duty to support the Lancashire Resilience Forum. This encompasses a variety of roles which LFRS staff are working on. Staff have assisted in distributing essential PPE to social care services across Lancashire which arrived as part of a national drop-off from central government.
LFRS have staff ready and trained to assist in the temporary mortuary that has been set up at BAE systems. Staff have also been working as the Fire Safety Regulator within the Design and Build Team for the Lancashire Recovery Centre based at UCLan Sports Centre. Staff are also working closely with the NHS to support, where required, at the Nightingale Hospital.
This week staff also began working on the face fitting of masks form our Training Centre, Fulwood Fire Station and Hyndburn Fire Station to NHS staff. There are over 30 LFRS members of staff available to help P3 masks properly to hospital and social care workers to ensure they are fitting them correctly with a proper seal.
Prevention
LFRS relaunched their Nosey Neighbour campaign to highlight that anyone could be struggling at this time and community spirit is more important than ever to ensure the welfare of our neighbours. A dedicated website was set up which advises residents how they can help neighbours including a list of partner agencies to signpost people who may require more support.
With more people working from home and routines being non-existent LFRS have provided some fire safety in the home reminders to ensure people are keeping safe during lockdown.
Community Safety Advisors have been working in the virtual community hubs in areas across the county making welfare calls, over the phone and in person (whilst maintaining social distancing), to ensure the most vulnerable people of our communities have not been forgotten and have all the support they require. Since this was launched they have conducted 1,130 visits to vulnerable people and a seven-day rota has been introduced to work through the high numbers of cases, conducting 318 visits across the ten districts in one weekend alone.
Dawn Gough, Community Safety Advisor said; "Residents who have received contact from me or my colleagues have appreciated the contact and now feel like they know where to turn for advice. They have felt reassured to know they haven't been forgotten and a lot are lonely, feeling isolated and vulnerable. Some of them have been surprised that LFRS are working in the community carrying out visits and I have been able to explain the work that is being carried out on behalf of Lancashire Resilience Forum.
I am enjoying talking to people, showing them we care, helping them with essential shopping, making referrals to partner agencies like Telecare and offering critical potential life-saving advice."
For anyone who would also like to support members of their community can get advice from our Nosey Neighbour page or become a befriender to a lonely person by signing up to the Lancashire Volunteer Partnership, of which LFRS is a partner of.
LFRS have also been pushing prevention messages relating to wildfires, nuisance fires and water safety advice alongside the #StayHome messaging due to a spate of incidents across the county. The Service has worked with partner agencies and local authorities to push these messages.
Protection
LFRS have restricted fire protection activity down to legal requirements only, such as undertaking enforcement activity and will not visit schools, hospitals or nursing homes without specific risk assessment. That said the Service wants the public to know that they are still here for them, have updated the Business Safety pages on our website for businesses who are now working a little differently, are running on lower staff members or are empty and Business Fire Safety advisors can be contacted by emailing: ProtectionSupport@lancsfirerescue.org.uk
Other
Following a plea from the Chief Fire Officer for volunteers over 2,135 hours has been logged of individual pockets of time from over 500 members of staff who made themselves available to volunteer throughout April and May.
LFRS are working in communities to ensure that those following Ramadan are not attending mosques to pray but are continuing to adhere to the #StayHome messaging and conduct their prayers and worships from home.
The Service is also sharing messages on social media from partners such as Public Health England for safety, mental health messages and Lancashire Constabulary's domestic violence campaign.
A few LFRS staff have also undertaken challenges to raise money for charity and one firefighter from Burnley Fire Station is making 250 visors daily for the East Lancashire Clinical Commissioning Group from old overhead projector sheets or binder covers.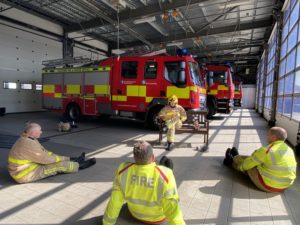 On a lighter note LFRS have provided some fun resources for children over on their website from colouring to puzzles and have even hosted a bedtime story read by one of their firefighters! They are hoping to do some more community engagement work which they will announce on their social media pages soon. Staff have also been able to take part in the weekly 'Clap for Carers' sessions with firefighters standing outside stations and even coming up with some brilliant thank you artworks. Firefighters have also been able to facilitate some drive-by's wishing people a happy birthday when they've been returning from incidents which has been really heart-warming!
All in all LFRS wish to reassure the public that they have not had to reduce the services they offer the people of Lancashire during this pandemic and have staff working over and above to fulfil the needs and requirements the Coronavirus has brought on a local, county and National level.