It's Candle Fire Safety Week! This annual event is the perfect opportunity to refresh ourselves with the do's and don'ts of candle use.
As the nights draw in and the weather turns colder, it can be very tempting to light a few candles and give your home a warm and welcoming ambience. Candles can be beautiful, but they can also present a major hazard in the home.
The Lancashire Fire & Rescue Service would like you to protect your loved ones by taking extra care with candles this winter.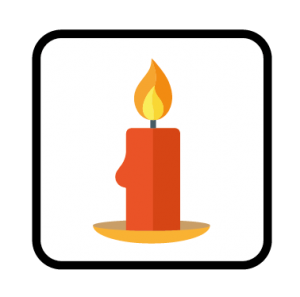 Some Key Stats:
Candle fires result in around 350 casualties per year.
Nearly 40% of candle fires result in death or injury.
Candles cause dwelling fires every single year, but there are a few simple steps you can take to help avoid adding to these startling statistics.
Smoke Alarms
Investing in a smoke alarm is the main way you can protect yourself and your family from all types of fire.
All homes should have a working smoke alarm. This simple piece of equipment can give you the time you need to get out safely and to call 999. Protect your loved ones by investing in a smoke alarm and practicing fire escape routes.
Candle Safety Tips
Here are a few tips to help you enjoy using candles safely this winter:
Make sure your candles are placed on a stable surface, out of reach of children and pets.
Keep all naked flames away from upholstery, soft furnishings and other fabrics.
Do not move the candle once lit.
Ensure the room is well ventilated and that the candle is away from drafts and air currents.
Extinguish your candles using a snuffer or spoon. This helps to reduce the risk of accidentally producing sparks when blowing them out.
Keep scented candles in a heat resistant holder. These candles are designed to liquify when hot, in order to distribute their fragrance.
Book a Home Safety Check
The Lancashire Fire & Rescue Service offers home safety checks to members of the public. We aim to protect our most vulnerable by offering personalised help and advice.
To book your free home safety check, please visit our dedicated web page today.