Teaching very young children about fire safety can help keep them safe for the rest of their lives. Our early years support complements many of the Early Years Foundation Stage early learning goals; introducing fire safety awareness and basic understanding of what to if there is a fire in a way that doesn't make young children feel scared or vulnerable.
Early Years Foundation Stage Resource Box
What do we offer?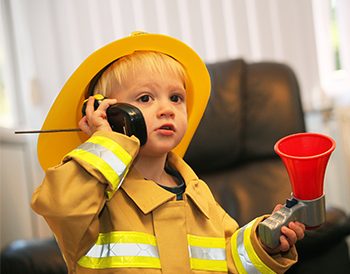 Nurseries and pre-school groups can contact us to help raise awareness among the youngsters in their care of the risks and dangers of fire and how they can stay as safe as possible.
If we can't visit the group, we can loan out a special resource box that can be used by EYFS/nursery staff to deliver a teaching session.
The box includes dressing-up kit and role play equipment; stories, poems and pictures; jigsaws and games; and suggested activities. It also includes suggestions on how to use the contents.
Special Educational Needs and Disabilities (SEND)
We recognise that all people with Special Educational Needs and Disabilities (SEND), irrespective of their age, are a particularly important group to us as they can be considered as more at risk and vulnerable to the dangers fire can pose. However, each individual or group that we visit will have different circumstances and needs and we appreciate that in these cases traditional teaching approaches, such as using a single generic session, may not necessarily create the most suitable and effective learning opportunities.
Rather than using a single generic session plan, SENDSafe is a toolkit of 31 activities, most lasting around 15 minutes, that can be mixed and matched to allow the people with SEND to learn about both fire safety and other safety themes as much as possible through their senses so that they have opportunities to touch, smell, see and hear. This should help make the sessions as fun, interactive and educational as possible.
SENDSafe covers:
Concept of fire
Fire hazards
Smoke alarms
Escaping from fire
Calling the fire and rescue service
What to do if your clothes catch on fire
Practical enrichment activities (finding out about firefighter's uniform/fire engine etc.)
Involving parents/carers
Thematic safety input (water safety, fireworks and bonfires, road safety etc.)
Each session also has an evaluation process.
Download the SENDSafe Toolkit.
How to book?
We appreciate that that teachers/carers know their learners best and so close liaison between the teacher/carer and fire and rescue service personnel is essential. It is recommended that a meeting take place prior to the actual session(s) taking place to determine the bespoke format, including content and approach/means of delivery. This will help make sure that the learner's needs are understood and that the setting is appropriate for the activities being considered.
For further information please contact:
Service Headquarters
enquiries@lancsfirerescue.org.uk