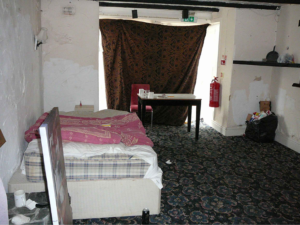 On Thursday 13 May, Mr Aheed Sultan, the former owner of the Plaza Beach Hotel on Albert Road, Blackpool was given a fine of £7,700 and order to pay £7,300 in costs after pleading guilty to seven offences under the Regulatory Reform (Fire Safety) Order 2005.
Lancashire Fire and Rescue Service first became aware of these breaches in September 2017, when fire safety inspectors from Blackpool fire station visited the hotel as part of a multi-agency operation.
During their visit, fire safety inspectors found:
several members of staff sleeping in the basement with inadequate fire detection,
fire separation throughout the hotel was inadequate,
fire doors would not close,
combustible materials were stored throughout the hotel, including mattresses, on the means of escape,
inadequate maintenance of the fire alarm and emergency lighting, and
fire risk assessments were not suitable and sufficient.
A prohibition notice was served by Lancashire Fire and Rescue Service on the same day meaning that the only people allowed on the premises were those carrying out remedial fire safety works.
Mr Sultan was charged with ten offences of the Regulatory Reform (Fire Safety) Order 2005 and first appeared at Blackpool Magistrates Court in May 2019.
Initially, Mr Sultan pleaded not guilty to all offences, however, after numerous cancellations and rescheduling of court dates, he pleaded guilty to seven offences.
Mr Sultan no longer owns the Plaza Beach Hotel but as the fire safety breaches occurred whilst he was the owner, the court hearings and subsequent fine have still been enforced.
Speaking after the sentencing today at Preston Crown Court, Head of Prevention and Protection, Area Manager Mark Hutton said:
"The importance of fire safety in buildings which provide sleeping accommodation should never be underestimated. Unless the risks are taken seriously, and managed appropriately, fire is an ever-present danger. In this case the former owner left too much to chance and failed in his legal duties. If a fire had occurred residents and staff would have been at risk of serious injury or death"
"Most hoteliers and business owners recognise fire safety as a legitimate business expense and see the importance of protecting the lives of the people who visit, work and sleep in their premises. We will work hard to support such businesses to comply. In cases like this however, where lives have clearly been put at risk, Lancashire Fire and Rescue Service Inspectors will take evidence to the courts".
"This sentencing comes at a time when hoteliers are looking forward to re-opening after a long period of lock-down and will be juggling the challenges of re-opening and managing the ongoing Covid risk. I fully recognise the challenges this brings but fire remains an ongoing risk and must remain a business priority".
"Any business owner who has any concerns about complying with the Fire Safety Order can contact our business fire safety advisors or visit our website for more information."