Lancashire Fire and Rescue Service (LFRS) works closely with the Lancashire Resilience Forum and local partners to help keep people safe around Diwali.
Diwali, the Hindu New Year festival, is celebrated by many households in Lancashire, specifically around Preston. With people celebrating Diwali, we are asking people to please do so safely and follow our advice around cooking, candles and fireworks.
Diwali is known as the 'Festival of the Lights' and sees an increase in the use of 'diyas' or oil lamps and candles used around the home. It is believed that light signifies goodness therefore various lamps are burnt throughout the day and into the night to ward off darkness and evil.
To keep safe this Diwali, please follow these simple safety guidelines.
Cooking family feasts and tasty treats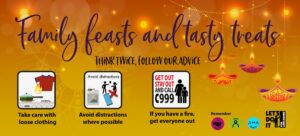 Almost half of all accidental fires in the home in Lancashire are cooking related.
Keep it clean, keep it clear – your cooker and hob
Distractions could be disastrous – don't leave pans unattended
Don't fill your pan with more than one third of oil
If the oil starts to smoke, turn off the heat and leave it to cool
Never pour water over hot oil
Clothing ignites quicker than you think – keep scarves and long sleeves tied back
Only use appliances like pressure cookers if they were purchased from the UK and carry the CE mark
Ensure you have a working smoke alarm on each level of your home
If a fire does start, don't try to fight it yourself. Get out stay out, and call 999
For more cooking safety advice click here.
Lighting up your home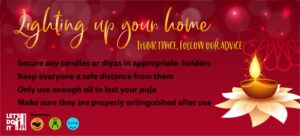 Secure candles and diyas in a proper holder and at a safe distance from curtains, decorations and clothing
Keep them out of reach for children
Consider swapping candles for battery-operated LED tea lights
Use only enough ghee or oil for a diya to last your puja
It is common practice during Diwali to leave candles burning all day but please extinguish candles and diyas when you leave the room, the house or go to bed
Be careful if using incense sticks
Ensure you have a working smoke alarm on each level of your home
For candle safety advice click here.
Fireworks and festivities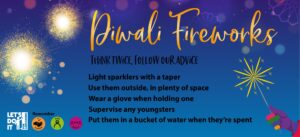 You can read more about fireworks safety here. However, we encourage people to follow the fireworks code:
Only buy fireworks which carry the CE mark, keep them in a closed box and use them one at a time
Read and follow the instructions on each firework using a torch if necessary
Place on a stable surface, light the firework at arm's length with a taper and stand well back
Keep naked flames, including cigarettes, away from fireworks
Never return to a firework once it has been lit
Dispose of fireworks by soaking in a bucket of water for several hours, bag it and bin in your usual black bin once completely cool
Don't put fireworks in pockets and never throw them
Direct any rocket fireworks well away from spectators
Never use paraffin or petrol on a bonfire
Keep pets indoors and ensure children are safe and a good distance away from the fireworks
If using sparklers ensure they are held in a gloved hand at arm's length and there is a bucket of water to put them in once the sparkler is out
For more firework safety advice please click here.
Finally, LFRS wishes to remind people about the importance of checking on your neighbours. Our Nosey Neighbour campaign encouraged people to make a regular phone call to an isolated, vulnerable or elderly person or knock on their door to check they are okay. With darker nights and curtains drawn it is all to easy to forget about how someone is.
We'd like to wish happy Diwali to everyone celebrating the Hindu festival of lights. We know festivities are different this year but we hope Diwali brings happiness, prosperity and joy to you and your families.